Welcome to a new school year, filled with exciting possibilities and opportunities for growth! As stellar educators and dedicated parents, you know that quality education goes beyond textbooks – it's about nurturing young minds and hearts with stories that inspire, empower, and celebrate diversity.
Get ready to be inspired by "What I Can Be Is Up To Me," a captivating and inclusive children's book designed to ignite the imagination of young readers in grades 1-2. This literary treasure is more than just a book – it's an open door to a world of self-discovery and empowerment. As a former elementary teacher and passionate advocate, I'm thrilled to present a story that celebrates the unique abilities of every child and encourages them to believe in themselves, regardless of the world's expectations.
Why "What I Can Be Is Up To Me"?
This delightful book holds a big surprise – every single featured individual, including the skateboarder (see illustration below!), is blind or low vision! It's a celebration of the extraordinary abilities that reside within us all, regardless of our circumstances. This exciting tale goes beyond its narrative; it's a mirror of the diverse and vibrant world we live in. Each character represents a unique facet of our society, fostering empathy and understanding in young hearts. Through collaboration with educational consultants and experts in children's literature, this book has been meticulously crafted to inspire and empower. It's a symbol of the remarkable achievements that are possible when we believe in our limitless potential.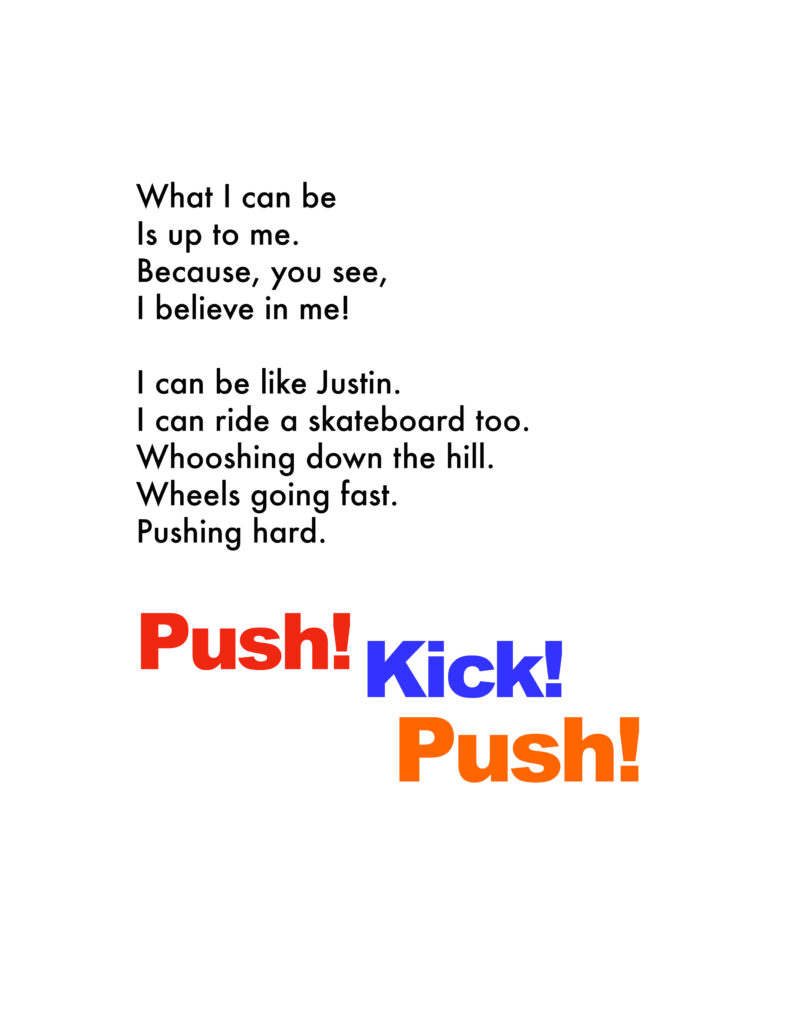 Empowerment through Storytelling
At the heart of "What I Can Be Is Up To Me" lies a message of empowerment. Its engaging narrative and vibrant illustrations – created by a visually impaired artist – paint a vivid picture of how embracing our unique abilities shapes who we are. As educators and parents, we know that this lesson lays the foundation for lifelong success.
A World of Inclusivity and Accessibility
What sets "What I Can Be Is Up To Me" apart is its commitment to inclusivity and accessibility. This book is a trailblazer, printed in a unique format that combines braille and print within the same pages. But it doesn't stop there – every illustration is accompanied by vivid picture descriptions. This ingenious approach ensures that both braille readers and sighted individuals can engage with the story and its enchanting visuals. The book is a testament to the power of accessibility, demonstrating how braille can benefit both blind and sighted young people. It's a remarkable example of how we can bridge gaps and create a world where every child can explore the pages of a shared story, regardless of their abilities.
Parents and Educators: Ignite Empathy and Inclusion by Empowering the Next Generation with 'What I Can Be Is Up To Me
Empower the next generation to celebrate their unique abilities and see the strength in diversity by bringing "What I Can Be Is Up To Me" into your homes and classrooms. This book is not just a story – it's a tool for shaping young minds, fostering empathy, and igniting a spirit of inclusivity. By introducing children to characters who overcome challenges with resilience and determination, we plant the seeds of a more compassionate and understanding world. Let's stand together and inspire a future where every child believes that they, too, hold the power to create their own path, regardless of any obstacles that come their way.
Get the Book "What I Can Be Is Up To Me" as well as a lesson plan to incorporate it in classrooms at www.WhatICanBeISUpToMe.com
As we celebrate the new school year, let's embrace the power of literature to shape young minds. Let's nurture the spirit of possibility, empathy, and inclusivity. "What I Can Be Is Up To Me" invites us all to be part of a movement that celebrates diversity and empowers young minds.
PS – I am thrilled to offer engaging author visits – either in person or virtually – for your students. I am not only the author of the book, I am a former first and third-grade teacher that brings an energy that is contagious! With a passion for teaching life lessons and success principles through exciting, engaging stories, I have a lot of fun getting students excited to look at life differently! Let's chat about an author visit at your school! (Limited slots are available, so don't miss this opportunity to enrich your students' learning experience! Get info here or send an email to Kristin@ThrivingBlindAcademy.org)
Connect with me!
Discover the power of embracing ability and advantage in disability through Kristin Smedley's transformative books, impactful speaking engagements, enlightening workshops, and thought-provoking films. Dive into her best-selling book "Thriving Blind" on Amazon, and elevate your next event by booking Kristin at kristinsmedley.com to ignite conversations that foster inclusivity and empowerment.