Many people dream of walking "the Red Carpet." Whether it's the Academy Awards, the Emmys, the Grammys, Tonys or ESPYs, so many kids (and adults too!) dream of being the mega star that is treated like royalty on that red carpet, with all the paparazzi cameras flashing. When you are an advocate for research funding and resources for living with a rare disease, you don't dream of walking a red carpet… it's a blue one that's the goal.
The Global Genes RARE Champion of Hope Award is one of the highest honors in the field of rare disease advocacy, and the awards celebration night is a mega event, jam packed with the "who's who" in the field. And the winners of each category get to walk the blue carpet.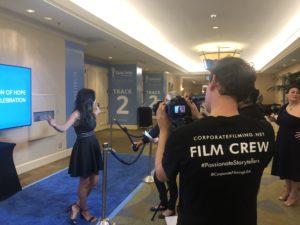 I got to walk that blue carpet last week! You can check out my social media platforms for more of the exciting photos and videos… for now I want to highlight the ah-ha moment I had a few years ago and did my best to explain in my acceptance speech on the big night.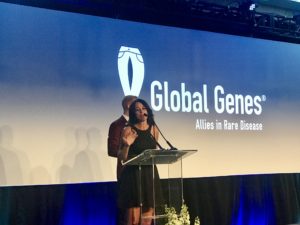 Hopeful Eyes
I opened my speech by admitting that I had always dreamed of accepting the top honor in my field, but I had intended that field to be teaching… until a rare disease happened, twice. I told the audience that the most ironic part of my journey happened on diagnosis day: I received the first of two rare blindness diagnosis at the Children's Hospital of Philadelphia (CHOP), a place whose slogan is "Where Hope Lives". However, while at CHOP, I was told there was no hope for my son to have a normal life and no hope that any of his vision would ever be restored.
I pointed out that while I was in that pit of hopelessness, I didn't pray for a miracle, I demanded a miracle from God. I had intended that miracle to be sight. There were a lot of heads nodding (and a few eye rolls!) when I said: "As we all know in this room, we have our plans, and God has His." I didn't get my demand answered in the way I intended… it was so much better.
After the diagnosis of my oldest son, Michael,  I was stuck in a hopeless pit as I envisioned the huge Pocono mountains near my home in Pennsylvania. I thought to myself, "My God, my son will never see something as huge as a mountain." Unbeknownst to me, Erik Weihenmayer had just summited Mount Everest. He is totally blind. When I found out about that I started to think that if Erik could do that, surely my son could still have possibility for a thriving life. It was like a ladder had been placed next to me in my hopeless pit, giving me the first steps to climb out!
Then, after the second blindness diagnosis (Mitchell), I was stuck on that ladder, unable to fully climb out of that hopeless pit. "Two blind sons?" I thought/cried/yelled, "Are you kidding me?" If you watched my TEDx talk, you know that my change in perception of blindness happened here. Another few steps up the ladder to get out of the pit.
All the while that I was facing blindness and changing my perception of life ahead for my two sons, a team was gathering at CHOP, Where Hope Lives, to work on a "little project" that the world now knows as Luxturna, the first ever FDA approved gene therapy to treat blindness and restore vision.

I told the audience, "My point in these stories is that the biggest blessing in my journey is that my perception of the journey was changed a long time ago and I started to look for hope, something to keep my optimism growing. And I promise you, if you look with hopeful eyes and a hopeful heart, you find the hope you need to keep moving along."
I find it no coincidence that once I was living with a hopeful attitude I was connected to the community at Global Genes, which I call the "Hope Engine". The slogan at Global Genes is "Hope: It's In Our Genes." When I am at a Global Genes event I can feel hope deep in the DNA of everyone in the room. I believe that's why everyone in the community is so collaborative and celebratory. I mentioned in my speech that this community has a "No Disease Left Behind" mentality. Everyone is working for their own rare disease for sure, but they share their lessons, successes and fails, so all advocates can get to their finish lines.
As a 2019 RARE Champion of Hope Winner I walked the blue carpet, was interviewed by a Film Crew, and even had a giant version of my headshot on the entrance door (not sure the A listers in Hollywood can say the same!). I was treated like royalty – Roy-al-ty – by the event staff and the crowd of a thousand people. It was exciting to say the least. But the interesting thing for me was that my colleagues were just as excited for me as I was for myself. These unintentional teammates of mine in that room and at home were all cheering. I quoted soccer legend Abby Wambach in my speech because she recently said something that sums up my journey to the Champion of Hope Award: "I have never scored a goal without receiving a pass from a teammate." I may be the face of CRB1.org and the author of the book Thriving Blind, but I have a huge team that constantly sets me up to shoot and score the goal… and we are just getting started.
Finally, I let the audience in on the #1 ingredient in my secret sauce of living with so much hope and optimism: I walk by faith, not by sight. (2 Corinthians 5:7)
[bctt tweet="I walk by faith, not by sight. (2 Corinthians 5:7) #faith #hope" username="KristinSmedley"]
Kristin Smedley is a 2019 Champion of Hope Award winner. She is an author, non profit leader and TEDx speaker. She originally planned to be a third grade teacher… and then two of her three children were diagnosed as blind. Kristin now shares her journey of raising her kids to not just survive challenges, but to thrive! She speaks around the globe regarding blindness and resilience. Watch her TEDx talk here and order her new book here. If you are interested to have Kristin speak at your upcoming event, email her at smedtalk@gmail.com or contact her here!