Flying a kite.  So simple.  So basic.  So not something I have done in a long time.  In fact, until recently it had been so long that I actually started thinking that flying a kite is such a waste of time, so boring, so unproductive. I had grown so incredibly negative about kite flying…until earlier this summer.
My family had the best stroke of luck this summer: my kids, husband and I as well as my parents and two of my brothers and their families were able to vacation together.  The stars aligned perfectly for us to have two houses right next door to each other at our favorite New Jersey beach, Sea Isle City.  The houses were connected so they shared decks and porches, which meant easy access to fun for all of the cousins at every door, every turn, every level.  Eight cousins, ranging in age from 3 to 15 years old, ran back and forth, up and down, usually all together for seven amazing days.
Since we were only steps to the beach we spent tons of time there.  Sand digging, wave jumping, boogie board racing.  We set up a huge canopy each day that cast enough shade for long chats and long naps.  Although it seems each of our smaller families is on a different schedule, at some point each day we were all together at our "spot" and we'd end up wiggling our sand chairs into one enormous circle that may have seemed to some like we were blocking the world out, but for us, for me at least, we were keeping the love in.  Everyone could hear each other's stories.  Everyone could keep an eye on each other's kids.  Everyone could warn each other if a seagull was heading towards us.
It was the perfect set up with perfect weather and somehow the cousins were all at perfect ages to play together with no competition.  Every activitiy, from walking a few blocks for ice cream to taking in the sights "in town" we loved doing together: until the kite flying night.
I have to back up for a second here and say that although I loved flying kites for many years,  I stopped doing it  with my kids years ago when my boys' retinal disease had progressed so quickly that they could not see the kite at the end of the string when it flew.  At this point, they can barely see anything just a few feet away from them.  So when my Dad announced we were all going to meet on the beach one night just before dusk to fly kites, well, my heart sank.  There are so many things my boys can do regardless of their blindness, but there are so many things, simple little things, that they can't do.  And sometimes, when it's been a long day or a particularly challenging week,  I skip over the things they can't do and put something else in it's place.  But this time, perhaps because I was so relaxed, maybe because we have so much love surrounding our family gatherings, or maybe because my kids had figured out how to do everything their cousins had done all week, whatever the reason, I was up for kite flying with my guys, sort of 🙂
Down we all marched to a big open spot on the beach and so began the chaos of who wanted what kite and who needed help and who thought they were old enough to NOT need help and which way is the wind blowing and how do you open this darn thing and is my roll of string the longest and so on and so on.  It turns out my Dad bought the most inexpensive kites for the gang.  Small, incredibly cheap plastic with no high power tails, no spinners, no frills at all.  They each had  only one or two little plastic bars to "lock" the flimsy things together.  And you had two choices: princess or super hero.  The little ones cheered.  The teens and tweens rolled their eyes with a look of "Pop Pop, really?"   Funny thing about grandparents, they know from experience where to spend their money and how many choices to give kids.  My Dad hit the jackpot here: the kids jumped right in to fly the kites.  My boys jumped right in too and grabbed their kites and we helped them set them up.  We tried describing the whole upcoming scenario of what is was going to look like but they were just like thier cousins: they wanted no talking and all kite flying.
Once all the strings were attached and everyone found some space, the madness began.  Kids went running down the beach with the sting handle while parents ran after them lifting kites over their head yelling "Go faster!"  Granny and Pop Pop were shouting out "suggestions" to each group of direction and wind and speed to get the kites up.  The sound of the ocean that had soothed us all week was driving everyone crazy as they tried to hear commands of which way to run. Kites were going up and then taking nose dives into the sand.  People were yelling to "Duck!" and "Watch the string!" as kites were crossing paths and nearly taking off heads.
And then, it happened: every single kite was up in the air.  Every single cousin had a string handle.  Every single cousin had a kite soaring above. Every single cousin, and every parent, and both grandparents were all looking up at the sky with the biggest smiles.  And the best part: my boys were right there in the mix looking up and smiling just like everyone else.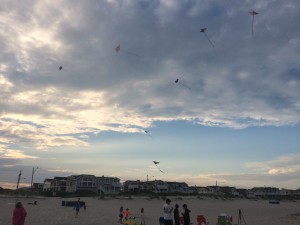 It turns out that there are so many cool non-visual things involved in kite flying.  The tension on the string as gusts of air take your kite higher is so exciting!  The pull of the kite trying to change direction is amazing!  And interestingly enough, cheap plastic kites make really loud flapping noises… so loud in fact that my boys could hear how far their kite was… and they could hear all the others too.  My boys held onto the kites the longest that day.  My younger son that usually has to move from one thing to another outlasted everyone and was the last to bring his kite in.
It was such a simple scene to any passersby: a "typical" family doing a "typical" beach thing.  Little do those folks know how not so typical my family is… and that, among so many other things, is what makes us so special 🙂
My boys almost missed out on such a fun, simple thing.  And me, well I felt like an excited kid again as I was steering kites and tripping over string. Quite frankly, in the end I am not sure which part was best for me: watching my kids' faces of pure joy in such a fun activity, or watching my parents' faces in pure joy of enjoying such a fun activity with their grandkids.  Both are priceless.
A few weeks after we returned home my younger son attended a theater camp.  When I picked him up the first day he told me the song they learned was "Let's Go Fly  A Kite" and they made kites for the performance.  He said with a huge grin, "Mom, I thought of our kite flying night on the beach the whole time today." Priceless times three.