Last week I had the honor of presenting at a fabulous rare disease advocacy/collaboration event:  the Rare Patient Advocacy Symposium co-hosted by PENN Medicine's Orphan Disease Center and Global Genes.  If you are in the rare disease space, you know why I was honored to be on THAT stage.  And whether you are in the rare disease space or not, I highly encourage you to look into both of these organizations to see how collaboration is possible and effective… in fact, it is the collaborative nature of rare disease folks that has moved mountains for so many seemingly unsolvable puzzles.
As is usually the case in a rare disease event, there was so much sharing that we ran very short on time!   Therefore, I figured I would use this blog to extend my information a bit for those that attended and for all those that did not have the fortunate opportunity to be there live.  I will also be doing a few Blabs and Facebook videos in the near future to explore these and other topics as well. The info is that important.  I should note that I am not sharing info that is brand new or high level – it is simply "stuff" I learned in my five years of launching and managing our rare disease organization, the Curing Retinal Blindness Foundation.  I have spent these years following folks around, asking lots of questions, listening to hours of podcasts, and scouring the internet and social media.  I am just putting all the learning in one place – and I didn't get it all in for sure… so please comment with additional thoughts to keep the learning going!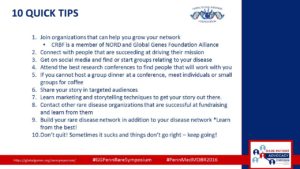 At the Rare Patient Advocacy Symposium I presented during the section titled: Steps to Advance Research For Your Disease Community.  Here is  the info from just one of my slides with additional brief thoughts:
10 QUICK TIPS FOR ADVANCING YOUR REACH
1. Join organizations that can help you grow your network
2. Connect with people that are succeeding at driving their mission
3. Get on social media and find or start groups relating to your disease
Become active in a group for your specific disease as well as related diseases.  We have  CRB1 specific groups (1 private, 1 public) and I also participate in one for related diseases such as LCA & Retinitis Pigmentosa, and ones more broad like Parents of Blind Children and others.
4. Attend the best research conferences to find people that will work with you
I have the annual Global Genes and National Organization for Rare Disorders summits in permanent marker on my calendar!
5. If you cannot host a group dinner at a conference, meet individuals or small groups for coffee
CRBF hosts an annual dinner at the world's largest research conference.  However, before we had funding for that we went to that very conference and met folks in hallways, at coffee shops.  We still do that to alleviate costs and to get more one on one time with specialists.
6. Share your story in targeted audiences
I often share meaningful information and advice in our disease groups to keep our organization fresh on people's minds.  I get numerous referrals of newly diagnosed patients from others that have seen my blogs, posts, tweets, etc.
7. Learn marketing and storytelling techniques to get your story out there.
A great story goes a long way.  Learn how to tell and share yours.
8. Contact other rare disease organizations that are successful at fundraising and learn from them
I was blessed to be in contact with successful organizations through my contacts at NORD very early on.  Don't waste time whining with unsuccessful folks – look at who is moving mountains and learn from them!
9. Build your rare disease network in addition to your disease network *Learn from the best!
You will learn so much about all the different angles of fighting a rare disease by looking outside your own disease network.
10. Don't quit! Sometimes it sucks and things don't go right – keep going!
From one of my favorite poems called Don't Quit: "Success is failure turned inside out.  The silver tint in the clouds of doubt.  You never can tell how close you are. It may be near when it seems afar.  So stick to the fight when you're hardest hit – it's when things seem worst that you must not quit."
Let me know other suggestions that worked for you! Follow me on Twitter for more updates, connections, and info on where i am speaking next!!