This past weekend my husband and I took our 16 year old son on what I called the #EpicBdayWeekend: three of his favorite concerts in  four days.  It may seem a bit over the top and over indulging to some, but that would likely only be the case for folks that don't know our family and our story, or more importantly, Michael's story.
Ultra brief background: Michael was born with a very rare blindness.  This blindness, CRB1 degenerative retinal disease, has made a few things pretty challenging for Michael, but he takes everything in stride and gets involved in just about everything he possibly can… sports, music, theater, you name it.  One thing he can't take part in is driving, and I did not want that aspect, that missed milestone moment, to be the focus of his sixteenth birthday.  You can read more about what I did here.
For those already caught up on the journey I give you the first concert night of the #EpicBdayWeekend: Bruce Springsteen!
"The Boss" played at Wells Fargo Friday night, and although I can be pretty witty with words, I cannot find the right word to sum up Michael's excitement in the days leading up to the concert.  All week long when Michael got in my car he'd hook his Bruce "The River" playlist up to my system and blare the songs.  As soon as he was through our kitchen door he'd run upstairs and blare "the River" album in his room (yes, I said album – what's with kids these days going back to vinyl???) He searched the internet for every concert on the tour.  He'd look at each setlist and would give his Dad (the other ginormous Bruce fan in our house) the updates on what songs he did in which cities, which songs he left out, etc.  Interestingly enough, Bruce released a live recording of each concert, but Michael refused to listen… he wanted to experience the comments from Bruce to the audience, the band banter,  the audience singing along, all the amazing nuances of a live show…he wanted to experience it all first hand.
With the forecast calling for "epic" cold weather, and to give Michael a much less stressful exit (more on that below), we decided to get a hotel room in downtown Philly and go to and from the concert on the subway as opposed to waiting for cabs or Uber in the cold. Plus, taking public transportation with Michael and my other blind son always fascinates me: they know the entire rail and subway system in our city.  Both of them actually go on lessons with an orientation and mobility instructor a couple of times a year to learn to navigate our SEPTA system, and they have learned it quite well.  My husband and I read the schedules and decided on the express train to the stadium.  It was a simple decision: with no stops, we'd be there in ten minutes.  While everyone descended down the steps and went to the local side of the platform, we went to the express side. Michael mentioned that the express train would likely not be running.  We disagreed.  He mentioned that although schedules often say it's running, it rarely does.  We snickered.  And then we waited.  And we waited.  And waited. Eventually we crossed over and got on the local train.  Michael 1.  Mom and Dad 0.
Fast forward to our seats –  our upgraded seats.  Michael has a knack for walking into the Wells Fargo center and getting better seats than what he walked in with.  Sure enough this time was the same.  We had to get the tickets on one of the gagillion dollar after market sites because the concert sold out in seconds, so the best we could do without selling our home and cashing in retirement was upper level behind the stage.  With Michael's "Luck o' the Wells Fargo Guest", we ended up in the section just behind the keyboard player (#NoCoincidences!) close enough to the stage that Michael could see a couple of the light shows.  And in true Michael fashion/luck, as we walked to the seats we ran into one of his good friends!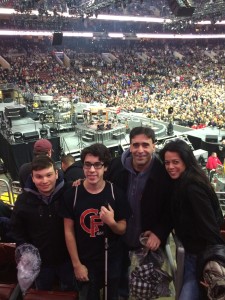 The incredible show
Bruce Springsteen and the E Street band came out on stage with no hoopla, no intro, no opening act, no fog, no dramatic lighting, no announcer… they just entered the arena and started playing… with the house lights on.  I found that very odd for a concert show, but ironically and coincidentally it was very cool for Michael.  He can see a very little bit in bright lighting, but the typical dark arena at most concerts has him seeing absolutely nothing. As the first note was played his big bright smile burst onto his face and never left .  For three and a half hours he sang and cheered and shouted a deep "Bruuuuuuuuuce" with the crowd.  I got to stand next to him and witness the whole wonderful night.  It was incredible.  But the best part came later in the concert: Michael noticed for weeks that "Jungleland"  wasn't on any of the setlists.  He was pretty bummed about it, wishing every single time that a new list was posted, he'd see it there.  The night of our concert he had finally resolved to the fact that they weren't going to include it on this tour (but we did joke about Tweet nagging Bruce to make him play it!) So you can imagine the face, the jump, the scream, from Michael when the band hit the first note of that song!  He. Lost. His. Mind.  It was my favorite moment of the night!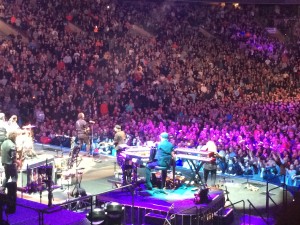 The funniest moment of the concert was when I was trying to scream over the crowd to describe to Michael this scene:  Bruce left the stage and walked down a side aisle of the floor.  He walked while singing and ended up on a smaller stage in the middle of the floor crowd.  And then… he went backwards into the crowd and all the fans literally passed him hand by hand over their heads until he got back to the main stage – all the while that he was laying on his back being passed by fans, he sang!  Trying to find words to paint that picture for Michael who couldn't see it was hysterical.  And as the crowd roared Michael knew: Bruce got safely back to the stage!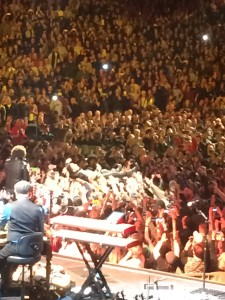 From the first note to the last, for three and a half hours we sang, we cheered, we laughed, and we had a bunch of "OMG!!!!" moments.  There was more energy in that venue than I have ever experienced at any concert.  I was completely in awe that Bruce can electrify people like that…. and he has the absolute best time performing.  It reminded me why I love to watch Michael perform on stage.  When you watch someone do what they love, what they were born to do, it is quite an experience.
No running for the exits here
I mentioned above that the other reason we chose to stay in the city instead of going the one hour ride home was to finally give Michael a break in exiting the venue.  You see, no matter how good his cane skills are and no matter how experienced and savvy he and I are at walking together through crowds, it just takes a little bit longer and a heck of a lot more effort for Michael to get from one place to another, especially in a fast paced crowded place like the Wells Fargo Center.  So this time, we were able to take our time, let the crowd storm out ahead of us, and go at our own pace that didn't involve any stress at all. A nice calm exit – until we hit the bitter cold outside at which point we ran to the subway!
Music sweeps you away
For many people, especially Michael, getting swept up in the moment of favorite music, with the bass thumping in your soul, you tend to forget about the challenges you face ever day.  For a moment, it's you, and the way the music makes you feel… and when 20,000 other people are in that same moment… singing, cheering, listening, it can only be described as, epic.
On the car ride home the next morning Michael talked on the phone  with his buddy that had been at the Bruce concert in Jersey a couple of weeks before.  For our entire car ride they chatted –  two 16 year old pals, having the same experience and comparing notes, laughing, singing, being regular 16 year olds.  The irony of the moment was not lost on me: I thought my son was missing out on a big part of being 16… turns out a big part of being 16 is what my son is: phones, friends, and following cool bands.
Dear Bruce, Thanks for an epic kickoff to an epic birthday celebration.  We didn't think about driving, or not driving, once. Love, Michael's Mom and his #1 fan.