Last Thursday, my family gathered in Washington DC with other families affected by our rare blindness (CRB1 degenerative retinal disease) to raise awareness for our children that are blind or visually impaired due to this rare disease, and to stand on behalf of all those affected by rare eye diseases with support from our Congressman, Representative Mike Fitzpatrick.  As I think about the whirlwind days leading up to the event and the disastrous weather that delayed and frustrated us as we traveled, I can't help but see how incredibly symbolic it all was: our journey to the nation's capitol was quite similar to our journey into our rare eye disease with our children.  In the weeks leading up to this monumental day, we were excited, we planned all the fun details, we told everyone we knew about our news… which is exactly what we did when we found out we were pregnant with our children.  As the day got closer we started email and text  threads with the other families attending to make the best plans for our epic event… just like when our babies were born and we made the best plans for their epic lives ahead.  And although we planned everything perfectly, the east coast was slammed with the biggest thunder/tornado storm that no one expected in February and on the eve of our big day, flights were diverted, driving was treacherous, and fear, upsetment, and stress set in…. which is exactly like the moment when we received the diagnosis that our babies' eyesight would be lost do to a rare eye disease.
But just as my own journey of raising children with a rare eye disease got easier once I settled down, created a new plan, and learned the tools my children needed, our journey to the big moment on Capitol Hill came together once the storm settled, new flights were boarded and highways cleared.  Our CRB1 family local to DC, the Jones Family, hosted us for a dinner that was supposed to include all that traveled in, but delayed flights and driving issues left it just us two families dining together while we continued checking everyone's travel status.  It was wonderful to take a deep breath after a hazardous ride in the comfort of their beautiful home, and I again counted my blessings that we are on this journey together with others. (Incidentally, I keep talking about how wonderful the fun conversations were with the Jones family –  Mitchell and Karissa talk about the dog and the kids!) While eating and chatting we checked in with the others and created the best plan forward, together.  And that's exactly what our journey has been like thus far, and will continue.
The next morning could not have been a more stark contrast to the evening before: the skies were bright and the air was not the typical bitter February cold, just a nice crisp morning. I won't get into the details of getting five of us all shined up and out the hotel door first thing but for those that have attempted getting "kids these days" that wear nothing but shorts or warm up pants and giant tshirts into "nice clothes" and "fancy shoes" and ties (how dare I!) and belts (the horror!) and oh dear God.. a dress. Let's just say it was one of those "ain't gettin' Mother of the Year this year" screaming episodes with lots of "don't lean against that" and "OMG how did you get toothpaste on the back of your pants?" And then there was my shoe moment – I had to decide between my two nicest pairs of black shoes to bring because I only had space for one pair.  Turns out I brought one of each – one shoe from each pair!  For those reading this that don't know me, I am NOT affected by a rare eye disease; I can see perfectly fine.  I guess I am affected by a mom-packing-for-everyone-in-the-house-while-preparing-for-a-really-big-professional-moment-and-got-distracted disease.  Luckily DSW was two blocks from the hotel.
Back to my metaphoric journey: as we were trying to get out of our hotel room I got a text from another CRB1 family, the Hoffmans, that traveled through the storms into DC the night before as well.  They drove through morning DC traffic to meet us in our lobby and go into the city with us.  I couldn't believe they did that.  But that's how the Hoffmans and so many other CRB1 families and rare disease families are: they are on this journey together.  Our little caravan of two made our way into town to meet the rest of our group. As we were driving in we were getting messages from the Jones' updating us on who was meeting at which Congressman's office and what buildings we were going to (we met in small groups with our Congressional folks to then be led to the gallery of Congress for the speech) While those messages were coming in, our CRBF Treasurer, Wendy Rankine,  was also giving updates.  Wendy traveled alone from Georgia where her husband had to stay with the kiddos,  and her plane was diverted into Cleveland the night before turning her simple few hour trip into a lengthy nightmare.  But Wendy got up and out the door early to arrive at the building that most of us were heading to to give us updates on security lines, meet our guests, etc.
To think,  I had been so nervous that I had never done anything like this before and I tend to doubt often that I am qualified to take on major projects and achieve great results.  But I am always surrounded by an incredible team, and the CRBF team is the best of the best.  All of them worked together doing everything they could to make it the best, most fantastic day for all of us. And they did so, as they always do, without expecting anything in return.  And it has been like that since I met them all.
The other team that was incredible to work with was Congressman Mike Fitzpatrick's team.  For those that know me you could probably guess that I didn't just make one request or send a couple of emails to the folks in his office in planning the event…. nope, not me!  As usual I was learning about something I had never been a part of before and when I am learning, oh boy do I ask questions!  Those poor folks got email and phone call questions from me that they likely have never heard before but absolutely nothing was too much to ask and nothing was ignored – seriously – I even asked if there is a piano in the Capitol and if so could they haul it into our reception room. (Look, go big or go home, right?) And I didn't reserve my flurry of questions and ideas to just one town of folks – I was messaging the Congressman's team here in Bucks County too! Everyone I spoke with thanked me for the questions and enjoyed putting the details together.  As if all of that wasn't enough, when we arrived at the Congressman's office, to big smiles and the warmest of welcomes from his team, Representative Fitzpatrick gave the boys an advance copy of his speech… and it was in Braille so they could read it.  The Congressman told me it was his team that thought of that.  They are that invested in the people they serve. (In case you are wondering about my reaction, well lets just say I nearly hugged them to death.  I think I may have done more hugging on that day than in the history of hugging in the nations' capitol! Read on and you'll see why the hugfest kept going!)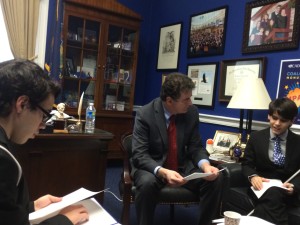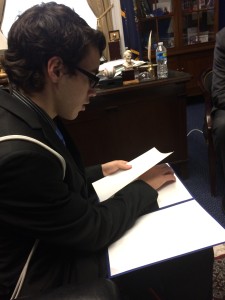 Once I got over my hugging spree, the Congressman gave me more news.  Let me set the stage for this first: When I was at a rare disease summit at the National Organization of Rare Disorders (NORD) back in the Fall I heard a mom speak about an awareness day she coordinated for her son's rare disease back in her home state.  I listened to her talk very excitedly about all the work that went into getting such a day and how rewarding it was when they were at their state capitol and had the spotlight on their little known disease.  I thought to myself, in all the stuff we have to coordinate for our big missions and the very little time left in a day, is an awareness day "worth" the effort – is the return on investment as huge as I would need/want?  Well everyone that has attended meetings and conferences with me knows I don't really think to myself – I think out loud, at the microphone, in the middle of the room of hundreds! When I did so that day – the mom assured me that her state awareness day was a great step in getting attention.  A state awareness day. A great thing… but I need our message to go across all fifty states.  And as anyone that has seen my laundry piles and dirty dish piles knows, I am out of hours in the day to coordinate such an effort at this point.  So I later contacted Congressman's Fitzpatrick's staff and asked how we go about this at the national level… and the mission began. We chose a date, they found a day when Congress was in session and the Congressman could make an announcement about it.  Now, understand that I was under the impression that we decide the awareness day and Rep Fitzpatrick would graciously make a one minute speech to Congress about supporting it.  It would be a good PR move to get our mission some "street cred" if you will: we could use the pictures and video to "market" our message with some teeth behind it, thereby making it a bit easier to get folks on board with our mission.  So, imagine my surprise when the Congressman told me he was submitting our National Rare Eye Disease Awareness Day as an official resolution and would encourage his colleagues to support it – and he was submitting it in Braille.  There's more… He then told me this would be the first ever Bill submitted in Braille!  It wasn't the "PR" part of me that got excited about how much attention this would get.  It wasn't the competitive part of me that looooooves to be a "first".  It was the mom of rare eye disease children in me that at that moment had a heart so full, it almost burst.  You see, I can bark at folks at about accessibility and they'll do it "because I said so." And I can go on and on about raising expectations and people will do it because I will nag them otherwise.  But when someone actually "gets it", without me having to have the big gloves on, well, it's indescribable actually.
That moment to me was the history making moment: My boys were sitting with their Congressional Representative, the man that was elected to speak on their behalf… and he wasn't just speaking on their behalf, he was representing them in their way, with their voice, exactly as our system is intended but so rarely actually happens.  I.  Was.  Speechless.
After just a few minutes it was time to move to the floor of Congress.  I had noticed right before we left the office that Mitchell was whispering something to the Congressman and of course I thought "oh dear God what is he telling him!" (Disclaimer: My Mitchell is the wild card of the family – always, always be near him to hear him and cut him off is our mantra) But in the hustle of trying to get everyone out into the hallway I couldn't get to Mitch.  I prayed he said something wonderful.  I prayed hard.  And then I found out what he said: When we got to the point where we had to part ways with the Congressman and Mitchell, as they would be heading to the floor and us up to the gallery, I started to tell Representative Fitzpatrick about how to use the "sighted guide" technique to walk with Mitch. As I started to talk the Congressman stopped me and said "I already know about how to do it".  I was shocked and asked how he knew. He said "Mitchell taught me back in my office!" Mitchell 1000.  Mom 0.
And then they were off together, Mitchell putting out his white cane and gently taking the elbow of the Congressman to walk into our United States Congress, showing all that saw them how you walk with the blind, guiding not leading, respecting not belittling.  And perhaps even more poignant, the Congressman looked as proud to be with his constituent as his constituent looked to be with him. I actually caught the moment:
We made our way to the gallery where we were joined by all the CRB1 families that were able to make the trip as well as members of the Spark Therapeutics team.  (For more on why I was over the moon that Spark joined us read my earlier post about their big step for us here)  We watched Mitchell lead the Pledge of Allegiance.  We watched Congressman Fitzpatrick give his speech about our mission.  And then we watched the Congressman introduce Mitchell to everyone they could make their way to.  I don't have words for that moment and unfortunately no cameras or videos were allowed (I so wanted to go "Facebook Live" from the gallery!). I do have the C-SPAN video clip of the historic speech:

Fitzpatrick Introduces Resolution in Braille from Rep. Mike Fitzpatrick on Vimeo.
It was a big moment for me as a leader of this organization working to get the attention we need to get to the finish line our kids need.  It was an unforgettable moment for me as a mom wanting desperately for people to "get" inclusion and accessibility.  And most of all, it was a magnificent moment for me as an American that this is what the work of this country needs to be about: respecting all of the people and working for what they need.
After Congressman Fitzpatrick guided Mitchell to place the Brailled Bill into the box where resolutions are dropped, we all left and met in the Lincoln Room of the US Capitol.  I found out another not so coincidental coincidence: when the Pope visited the US Congress last September, one of his stops in the Capitol was just outside the Lincoln room at the statue of Father Junipero Serra. (For the significance of the Pope and my journey read my earlier post here) Our group photo was taken just steps from that spot: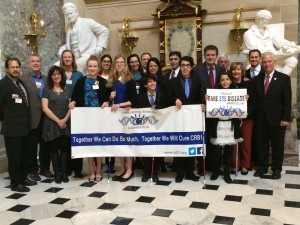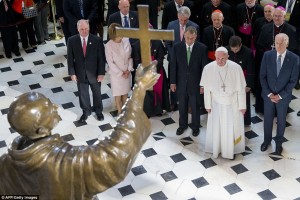 As you can see it was an incredible day full of lots of little miracles. One of my favorite parts of all of this, though, was the fact that my parents were able to make the trip to witness the occasion and to be there with me to celebrate.  They have been with me through the hard times and the celebrations along this journey and are always the biggest cheerleaders for the work I do.  I got to watch their pride in me, in my family, and in our wonderful team.  And boy is it easier to experience stuff with them than to have to retell it all via texts and phone calls! 🙂
Stay tuned for another post about the "nuts and bolts" of why this awareness day and the recognition are so important.  For now, here are a few more pictures from the day.  And join me in celebrating National Rare Eye Disease Awareness Day by sharing our stories and your story on social media!  Look for updates int he weeks and months ahead regarding how we will bring all rare eye diseases together to accomplish common goals.  "Alone we can do so little.  Together we can do so much." Helen Keller