NOTE: I am re-posting this entry from April, 2014 with an important update at the end: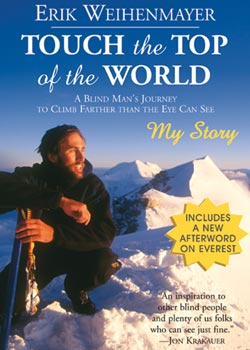 I know, this topic is a bit bizarre!  But my life is kind of bizarre that way… I used to seek out extraordinary people for my blind sons to meet so they too would be inspired to achieve extraordinary things.  Ever since my oldest son was diagnosed with a devastating blindness before he was a year old, I have sought out to meet role models for our family.
At first, I needed to meet people that could help me cope.  (I say "needed" because if there is anything I know for sure, it is that whenever you are going through a struggle you literally need to connect with others that experienced a similar struggle and survived.)  But then as I got better at coping with life taking a turn I wasn't expecting, I realized my boys were going to need role models, inspirational folks to show them that blindness should not stop you from achieving great things.  I mean, think about it… if you have a child obsessed with baseball, they probably have favorite players they love to watch and imitate…. and if a kid is in to music, they likely want to sing, dance even dress like their favorite rock star.  I wanted my boys to find their "rock stars", their "legends" in the those realms too, but more importantly in the blind community.
Take one of our favorite "legends" that happens to be blind:  Erik Weihenmayer.  Erik lost his sight in his early teens.  And although he admits he struggled with fear and anger surrounding the blindness, he overcame it… and has gone on to achieve greater success than most sighted people I know.  Erik is the only blind mountain climber to have climbed all seven summits.  He was a teacher.  He is a motivational speaker.  He has written two of the best books I have ever read.*  And now he is embarking on a kayaking expedition that makes my heart skip a few beats just thinking about.
We had the great honor of introducing my oldest son to Erik back when Michael was in first grade.  He was one of the first blind role models Michael ever met… but for me, he was one of the first people to help me climb out of the depths of sadness that the blindness diagnosis had me buried in.  It was years before that meeting that I had read Erik's first book "Touch the Top of the World", and as he chronicled losing his sight but creating an exhilarating life, I began to spend less time crying and more time teaching my son the skills he'd need to achieve greatness.
Fast forward  to present day… last week while my family was on vacation  we had the great honor of spending time with Erik and his beautiful family.  The kids were so excited to meet their hero… even my sighted daughter was excited to meet him as she had just read a short biography about Erik in her third grade class!  And me, well I couldn't wait to hear the latest stories of Erik's Soldiers to Summit program, and get an inside scoop on the GPS he and his friend are developing. Erik always has wild adventures he has either just completed or is about to start… always exciting!  I couldn't wait for all the awe-inspiring stories he'd tell, and absolutely couldn't wait for my boys' reactions and to see the inspired looks on their faces just knowing that Erik was opening even more doors of thoughts of possibilities for them.
And then a funny thing happened… Erik and his family shared stories about kayaking and wrestling matches, and  they chatted with my guys about sports and school and apps for the iphone.  Erik's daughter would roll her eyes when he made "typical" Dad comments that are so not cool to 13 year olds, and his son would giggle at the silly stuff Erik would talk about. And then his son and my younger kids did just what most kids do:  they sat at the table just long enough to eat before they all escaped to play a crazy ball game elsewhere.
I realized how incredibly blessed I was to sit and watch this extraordinary man have an incredibly ordinary life. My boys now not only see him as an inspiration to achieve greatness, they know him as a blind adult with a "regular life":  he's a husband, a dad, an ordinary guy having a wonderful time doing ordinary as well as extraordinary things.  I think that is what we all want for ourselves and our kids.
To learn more about Erik Weihenmayer visit www.touchthetop.com  *Erik has written Touch the Top of the World and The Adversity Advantage.
UPDATE February 2019:
My experience with seeing how role models have opened my sons' eyes to the possibilities that exist for them has inspired a new book that is a collection of stories, like Erik's,  of wonderfully ordinary people that are succeeding without sight.  I am so proud that THRIVING BLIND is soon to be released.  I'm even prouder to announce that Erik Weihenmayer wrote the Foreword! Details HERE.