They say the kitchen is the heart of the home and in my house, it certainly is.  But the heart of my kitchen and the heart of my family is actually, my kitchen table.
In recent years there has been a lot of talk and studies and social media banter about families not being connected to each other anymore.  And my family is just like so many others in our times of disconnection due to being over scheduled, over tech-ed, over everything that gets in the way of us spending time together.  But many times, usually once a week, we do spend some great family re-connecting time together at my most favorite place: my kitchen table.
Eleven years ago when we moved to our current home in Bucks County, Pennsylvania our third child was born and our family was complete.  We were living in the place we had always wanted to live and in a house I dreamt about for years. We were close to our extended families and in a community that we knew would be a great fit for us.  We were ready to put down roots and thrive.  And so our first big investment in our new home: our kitchen table. I know, so many people thought we were crazy; a big house with hardly any furniture and we were looking first to invest in a table?  Read on…
The table
We searched high and low for the perfect one.  It needed to be big enough for the five of us to be comfortable, but not too big for everyday living around it.  It needed to also be able to accommodate our big extended families for holidays and special occasions, but flexible enough to shrink down and allow space for baby gear and toddler toys.  You can imagine how unsuccessful we were in regular stores: oh the faces of the salespeople as we rattled off our list of what we were looking for!  We eventually were guided to a store about thirty minutes from our home where they were willing to create a table that would work for us.
God bless the man that literally stood in between my husband and me as we went through our lists of "musts".  We were picky.  Very picky. And we argued over which ideas were best. I wanted country charm of Bucks County, like an old barn door re-purposed for our table.  My husband wanted practical and functional: pieces that could be added on for company, removed for everyday use.  We did, however, agree that it needed to be durable and timeless – we intended to have this table forever and we intended to use it.. a lot.  Our table designer looked like he was at a tennis match as he looked back and forth at each of us while we went back and forth with our opinions. Somehow he achieved what few have been able to: he made us both happy with just one product! Our table can be as small as 4 feet by 4 feet and as big as 4 feet by 13 feet!  It has the Bucks County charm I wanted with the full functionality my husband desired.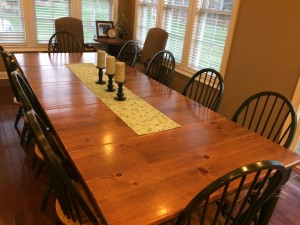 While we designed the table to be able to handle our small dinners and big family gatherings, we had no idea that we were designing a piece on whose legs our family values and traditions and connection would be built. As we sit  at this table, we argue and listen and debate and negotiate and share, and in it all, we connect.
Activities
At my kitchen table, I nursed one baby while serving another his first solid foods.  My children did their first puzzles, learned to read and completed countless homework projects here.  At this table we have shed tears over broken hearts and fading dreams, but we've also had many celebrations and outlined new dreams.  We have reunited with old friends and connected with new ones.  We've chatted 'til wee hours of the morning after first dances, played countless Monopoly games, and crafts… oh so many crafts… have been created on my kitchen table.
Celebrations
One of my favorite uses of my kitchen table is for birthday parties.  Yes, I am one of "those moms" that prefers to invite my children's friends to our home for birthday parties.  I like to bake their cakes.  I like to play crazy games.  And most of all, I like that everyone that attends can have a seat at our big kitchen table.  Every friend is important so every friend has a spot.  From my daughter's first birthday to the 100th birthday of my grandmother, and all the celebrations in between, many of my favorite memories of getting to know my children's friends and reconnecting with family members have been at birthday celebrations at my kitchen table.
Challenges
Years ago I sat at my kitchen table frustrated over trying to learn Braille to teach my blind sons to read and write.  I was frustrated at how hard it was.  Frustrated at how time consuming it was.  And honestly, I was completely frustrated at the seemingly unfairness of the fact that they couldn't see a regular book or use a pencil and paper, just like everyone else.  But as we sat together at our kitchen table day after day learning the Braille code, I realized that they are indeed just like everyone else: They learned to read. They learned to write.  They had favorite books and ones they thought were boring.  They loved some learning activities and hated others, just like everyone else.  And when I stop to think about it, all that extra time I had to take with them, all of the extra effort and hours spent at our kitchen table created a very special bond with them that I am not certain would have been so strong so early on had it not been that they needed so much of my time, my undivided attention, sitting right next to them.  And interestingly enough, my youngest child, who is sighted, would crawl up on my lap as soon as she was able and sit right with us.  I have no doubt that watching and listening had a huge impact on her being an early reader  🙂
Extraordinary
On a typical day, my kitchen table will have a multitude of ordinary activities happening on it simultaneously: laundry piles, homework papers, and after school snacks. But it is also home to extraordinary happenings.  A few years ago I sat at my kitchen table and chatted on the phone with a few doctors about starting a mission to cure blindness.  Imagine: I was at my kitchen table, surrounded by folded laundry and jigsaw puzzle pieces, and yet I was talking with world reknowned specialists that are curing blindness… and they told me how I could get involved in an effort that could restore vision to my sons and many others.  After that I sat at my kitchen table and Skyped and Facebook messaged with other moms of blind children about joining together and creating a mission to make this happen.  Just a few weeks later, nearly twenty elementary school friends of my sons sat around my kitchen table to plan our first ever fundraising event for our mission.  Our mission is now a non profit that is, what I like to say, "based at my kitchen table" but has a global reach and magnificent impact.
It doesn't matter the price tag or the style of a kitchen table.  Mine has dings, crumbs in the crevices, and a few marker stains.  But, it is a solid part of our family's story… and almost everyone that walks into our kitchen remarks about it.  From Thanksgiving dinner to take-out between activities, from small family celebrations to big birthday events, sitting at my kitchen table is… home.  And I am grateful for that every single time I sit here.
I wonder if others connect at their kitchen table?