If you follow my Eye Believe in Miracles blog, or my social media posts, or bump into me anywhere at any time EVER, you likely know that I am on a mission to reverse the blindness of my two sons and thousands of other kiddos.  I am not shy about it, heck, people in my hometown may very well be ducking behind coffee counters when they see me barreling in to refuel: I tend to talk about my work a LOT.  I'm cool with owning my obsession for my journey because when you are trying to cure a very rare disease, one thing you don't have is a multitude of resources.  And in our case, we don't have much time either.  I talk to as many people as I can to find connections to help move our mission forward, and I have to do it quickly.
My boys are blessed to have a little bit of vision remaining.  They had a little more at birth, but the retina cells are dying everyday… so at 15 and 12, they only have a bit left.  If I sit back and do nothing, they will likely be near darkness by high school graduation or their first year on a college campus.  What would you do?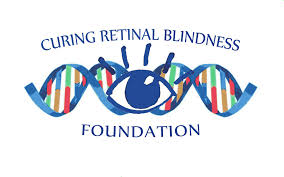 I can tell you, as I tell everyone, that I am not sitting and waiting. I am leading a team, the Curing Retinal Blindness Foundation, to stop the cells from dying off and ultimately restore the vision.  Think I am crazy?  It's okay, some folks would agree with you.  I mean seriously, it is a bit crazy to take on fighting a rare disease with no prior training to do so!  But, instead of listening to the naysayers that said it would be impossible, I learned to surround myself with folks that have the tools and expertise that I need to get to the finish line: the cure.  I am quite blessed to have found tons of folks helping me along this journey… allow me to introduce you to a new favorite group of people that are just as committed as I am to Get. This. Done.
Earlier this week, Spark Therapeutics announced that their gene therapy clinical trial for RPE65-LCA had positive results.

"We saw substantial restoration of vision in patients who were progressing toward complete blindness," Albert Maguire, professor of ophthalmology at the University of Pennsylvania's Perelman School of Medicine and principal investigator in the trial. "The majority of the subjects given SPK-RPE65 derived the maximum possible benefit that we could measure on the primary visual function test, and this impressive effect was confirmed by a parallel improvement in retinal sensitivity."
You can read  full articles of the news here and here. Or simply google "Spark gene therapy" and your search page will be lengthy with links.  It's big news.  Like, really big news.  My boys have a similar blindness to the one SPARK is working on, and I want ours to be the next one in the headlines.  Here's why:  In the RPE65 study by SPARK, twenty one patients received gene therapy to "fix" the "broken" gene that was causing blindness.  And the majority of them had improvements in their vision.  Major improvements that allow them to do every single thing they couldn't before?  We don't know yet – all of the details of just what they can see aren't released yet. Quite frankly, at this point, I don't care.  What I do care about is that this study proved gene therapy is safe.  This study proved gene therapy is an option to restore vision.  And this study proved that gene therapy helped visually impaired children with LCA-RPE65 navigate an obstacle course in the dimmest light, something they could not do before.  In my world, this is huge.
Here's the thing: If the only benefit that comes from gene therapy is the fact that my boys have a chance at being able to see enough to navigate the world a little better, my prayers will have been answered.  If my teenage son could go to a theme park and run from ride to ride with his friends just as fast as teenagers do, instead of having friends take turns carefully guiding him through the crowds, it is a success.  If my twelve year old could run from house to house trick-or-treating on Halloween night with his friends instead of slowly and carefully walking with me, it is a success.  If they could navigate dances, proms, and crowded high school football stands with ease, I would be the happiest mom around.  Anything and everything above that level is icing on the cake – and we are building the recipe for just that.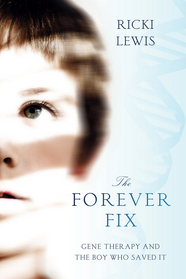 The work our Curing Retinal Blindness Foundation is doing will ultimately (God willing) carry CRB1 through the door that SPARK just blew wide open for gene therapy options. Gene therapy is not the "Forever Fix"* for all CRB1 patients (some CRB1 children will need additional therapies to restore more vision).  But for many CRB1 patients, and thousands upon thousands of others living with inherited retinal diseases, gene therapy is the dream come true.  Inherited retinal diseases now, if they are blessed to have teams focusing on their specific disease like our CRBF team is, will likely be able to translate the SPARK breakthrough to their disease, and change their course from darkness… to light.
Fifteen years ago, just fifteen years ago, doctors told my husband and I to learn the tools of blindness to raise our sons well… there was no hope for a cure.  They said maybe, just maybe, there would be hope in fifty years.  The SPARK team shaved an awful lot of time off of that "fifty years"… and I will keep fueling the fire of progress for CRB1 children that SPARK, well, lit the spark for.
*From Macmillan.com: THE FOREVER FIX is the first book to tell the fascinating story of gene therapy: how it works, the science behind it, how patients (mostly children) have been helped and harmed, and how scientists learned from each trial to get one step closer to its immense promise, the promise of a "forever fix," – a cure that, by fixing problems at their genetic root, does not need further surgery or medication.
Told through the voices of the children and families who have been the inspiration, experimental subjects, and successes of genetic science, Ricki Lewis' THE FOREVER FIX is compelling and engaging narrative science that explores the future of medicine as well as the families and scientists who are breaking new ground every day.  Order it here.