My two sons have a rare disease.  They are blind due to CRB1-LCA.  Their rare blindness affects only 300 children in the United States.  Only 300… it's THAT rare.  Until my boys came into my life, I had never even met a blind person and I am not sure if I ever knew anyone with a rare disease.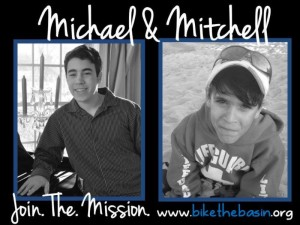 For the past few years our family has been leading a worldwide effort to treat and cure this rare disease, CRB1-LCA, as well as the more "common" CRB1-RP, which affects just a few thousand people in this country.  In the rare disease world, a few thousand is actually a lot, but in the "regular" world, we know that number still means rare, very rare… which also means we have to work 24/7 to get it noticed by those that can develop treatments and, equally important, those that can fund the process.
Last week I had the incredible opportunity to connect with other people that are living and working in the rare disease space.  I attended the Global Genes Rare Patient Advocacy Summit meeting. It took me an entire day to travel from my home in the Philadelphia area to the meeting in Huntington Beach, California.  I had to coordinate a team of friends and family members to stay with my three kids and shuttle them to and from afterschool activities while I was gone. (Although my husband and I work together to manage the Curing Retinal Blindness Foundation, he was in another part of the country with his "other" full time job.) Indeed it was a challenge to attend the summit – but if you were there for the two days of meetings that I attended, you'd know why I'd move mountains to get there.  The Global Genes Project summons the best of the best in the rare disease world to help parents and professionals progress to treatments and cures for their rare diseases.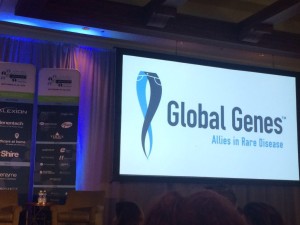 For two days the agenda was jam packed with keynotes and breakouts that were all designed to help every single person and the missions they represented move forward.  It was also a catalyst to refuel the energy tank of advocates that often tire out from the double workload of caring for their affected family members and fighting like hell to stop the disease and, God willing, reverse it.  My two boys are losing their minimal vision every day and I am fighting to save it.  Other parents are watching their children lose their quality of life every day and they are fighting to save them.  No matter the disease, the prognosis, or the status of the research for treatment, all rare families and professionals at the summit (and around all the rare "circles")  have something unique in common: we all want to see every single disease cured, every single child cured… and we collaborate day in and day out to share tools and resources.  In a world of crazy competition and folks constantly trying to "one up" each other to be the first and best, the rare disease community is a breath of fresh air… and a productive example that the rest of the world should look to and learn from.
I met parents that shared everything they learned about setting up a much needed but ever so complicated patient registry.  I met professionals that shared funding sources.  I even met parents that want to help others understand the "science" side of their disease.  The list of collaboration is a long one because if there is one thing rare parents know, it's that learning can take a lot of time… and none of us at that meeting has that, time, on our side.  Every one of our rare children has a clock that's ticking: be it a visual function clock, a lung function clock, a brain function clock.  The clocks are ticking to the dreaded day… when the function is gone.
Global Genes kicked off the summit with a speaker that may very well be the best I have ever seen.  Bonner Paddock is the first person with cerebral palsy to climb Mt. Kilimanjaro and he's also the first with CP to finish the Ironman.  Bonnor now works to improve the lives of children with disabilities through his 1man1mission.org mission.  I couldn't help but leap to my feet and run across the room to meet him when he was finished talking – he's THAT inspirational, and down to earth, and effective.  He actually makes you believe that this isn't rocket science: you can achieve your goals; and he gave tools, easy tools, to do it.
That same day ended with an opportunity to see a new documentary, The Lion's Mouth Opens, which follows a young woman, Lucy Walker,  as she learns her fate: whether or not she has the rare and devastating Huntington's Disease.  I can't put into words what it was like to sit with hundreds of rare patient advocates as I watched scenes so brutally similar to my life and theirs: the nerve wracking night before discussion at the kitchen table; treading down the long winding hospital hallways; the dreaded moment when the doctor hands the results over and says "I'm sorry."  And finally, the hardest part of my journey: the ride home.  It completely sucks for anyone that has that heart wrenching experience…. But I felt very, very lucky to re-live that part of my journey with a room full of people that are helping me set up new scenes in my life's movie: I know that one day I will walk the halls of scientific labs where investigators will tell me "We did it.  We figured the disease out."  And I am already planning the celebratory ride home when my boys can simply, descriptively, excitedly for sure, tell me what they see out the car window.
My stay at the conference ended with an awards ceremony that honored families and professionals that have worked tirelessly to advance the research and care of their rare disease children and patients.  Parents that have lost children to a rare disease spoke of honoring their little angels by continuing the fight.  Medical professionals spoke of it being their duty and their honor to treat their rare patients and work to figure out treatments for them.  My heart spilled over for these people as I sat with new friends that I met just hours before;  new friends that although our children have different challenges, our families understand the journey we're each on, knowing when to offer a hug and when to help tweak the business plan.
I had to leave a day early to get back to my family in my great city where we had the incredible, extremely rare opportunity to get up close to the Pope.  I left hundreds of rare advocates in California to stand with hundreds of thousands of faithful Christians back home in Philadelphia.  I am incredibly blessed to have experienced these two communities in just four days' time.  There is something about people coming together in a peaceful, loving way to make a journey together.  Spending time with rare disease families is always energizing for me, and not something many get to do.  Spending time seeing the Pope with my family and friends was a rare opportunity that not many can ever say they did.  Having those TWO rare experiences back to back… ultra rare… and there is really only one word for it: miraculous.